Peace Proms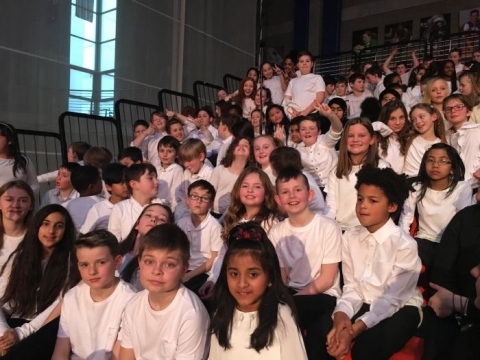 On Sunday, the 5th of March, we attended the Peace Proms Concert in UL Sports Arena. The concert started at 2:00pm and ended at 4:30pm. We came by car. My Mom and Dad dropped us there. It took in total 50 minutes to reach there. When I went into UL, I saw my classmates and people from other schools. After a minute in the reception area, Pamela and Siobhán came in. Siobhán took us to the holding area. Pamela and Clíodhna stayed in the reception area to see if more students came in. Pamela took us on to the stage and we practised all the songs and ate our lunch and then the real show began.
At the start of the real show, we sat down to listen to the orchestra. I loved the first song of the orchestra. When we sang, we had to stand up. The first song was 'Best day of my life'. Then we listened to the orchestra playing music again. We did a really good job of the 'Pop Medley' song. Then the Star Wars character came and danced. When we sang 'Heal the World', the audience used their phone and put their torch on to make stars. So it looked like real stars moving.
At the end, we sang 'Irelands Call'. After the songs were all finished, we went to the holding area to collect our coats. Our Mom came to collect us and my small sister as well. We went in the car and had a nice treat on the way home. All in all, it was an exciting day and we have great memories of it.
Hania (5th class), Anam (6th class) and Amaan (4th class).