Our Ethos and Ethical Curriculum
LETS is one of 82 multi-denominational schools throughout the country. The representative organisation for these schools is called "Educate Together".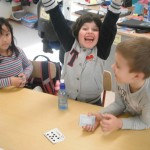 Educate Together aims to meet a growing need in Irish society for schools that recognise the developing diversity of Irish life and the modern need for democratic management structures. In particular, Educate Together guarantees children and parents of all faiths and none equal respect in the operation and governing of education.
The schools operated by the member associations of Educate Together are fully recognised by the Irish Department of Education and Science and work under the same regulations and funding structures as other national schools. However, they have a distinct ethos or governing spirit. This has been defined as:
Multi-denominational i.e. all children having equal rights of access to the school, and children of all social, cultural and religious backgrounds being equally respected.
Co-educational and committed to encouraging all children to explore their full range of abilities and opportunities.
Child centered in their approach to education: The individual needs of each child will be catered for Interaction between teachers and children is encouraged, and the school aims to help children to develop tolerance, creativity and self-confidence.
Democratically run with active participation by parents in the daily life of the school, whilst positively affirming the professional role of the teachers.
Whilst the concepts of child-centredness and co-educationalism are now widely accepted in Irish primary education, what distinguishes the Educate Together schools is their hard work in developing a cultural inclusive and democratic ethos .The schools are democratically organised and governed .This maximises the potential for building a genuine partnership between the professional, objective role of the teacher and the necessarily personal involvement for the parent in contributing to their children's education – see www.educatetogether.ie
Parents with internet access may wish to subscribe to the E.T. on Line Newsletter via the website.
LETS draws a distinction between moral/religious education and denominational education. The Ethical Curriculum followed by the school is called "Learn Together" (or "Learn Together to Live Together") and has four key strands: "Moral and Spiritual". "Equality and Justice". "Belief Systems" and "Ethics and the Environment". Each class teacher has a copy of the Ethical Curriculum which can be borrowed by parents who are interested in seeing more detail.
Denominational Instruction (specific instruction in relation to any particular faith or religion) is facilitated by the school – in that the groups can use the school premises, but is organised by parents outside of school hours.