Visit From The Irish Defence Forces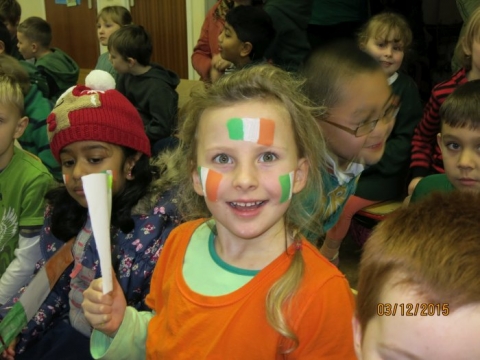 On Thursday 3rd December we were visited by two members of the Irish Defence Forces who came to present us with our own Tri Colour and copy of the Irish Proclamation. Seargent Derek and Private Paul first met members of the student council who told them about how they were elected and what they do for the school.
Our visitors then went to Áine's room and  spoke to infants – second class who heard about the origin of the flag, taking care of the flag and our proclamation. All the classes sang Amhrann na BhFiann ( The Irish National Anthem)
Derek answered questions and we even had a few jokes!!
Derek and Paul then went to Únas room where some students read the proclamation and we had music, more singing of the Anthem, facts about our flag, the Proclamation and loads of intelligent questions from our students.
Well done to all our students for listening, speaking, reading, and  singing so well. Thanks to all the staff and of course Derek and Paul for organising the visit.
As part of the 100 year anniversary of 1916 all National Schools are to be presented with the Tricolour by the Defence Forces. All National Schools in Ireland ( Over 3,300) will raise the flag at a special ceremony on March  15th 2016.